Project Description:
Adolescent in New York City asked me to help with 3d animation and motion design support to the opening title to Bravo network's lavish 40th birthday reality show, My Fab 40th.  My role in the project included: 3D animation, 3D modeling, 3D camera, 3D texturing, and 3D lighting using Cinema 4D and compositing the 3D passes, VFX, and 2D animation in Adobe After Effects.
Company: 
Adolescent
 / Creative Direction: Man-Wai Cheung, Mina Muto / Producer: Turner Poth, Mina Muto / Art Director: Rad Mora, / 3D: Anthony Serraino / Animation/Compositing: Rad Mora, Anthony Serraino.
Challenge:
01: Simulate party confetti bursting out of the card in the opening shot, float down, and continue with the rain of confetti with the closing shot.
02: Animation, coordinating, and rig a pop-up card.
03: Simulate picture booth photos flapping in the breeze.
04. In a few shots that did not make the final edit, simulate a house of Polaroid photos building.
05. Bursting away the the house of Polaroid photo for the end title logo reveals.
Project Key Frames:
Solution 01:
Utilizing  Maxon Cinema 4D 3D Dynamics module and a particle system, in the opening shot I timed out the card opening and turning on the particle emitter as the card opens. Utilizing a dynamics simulation, to allow the confetti to float down onto the table.
Solution 02:
Hand key framing the animation of a popup invitation card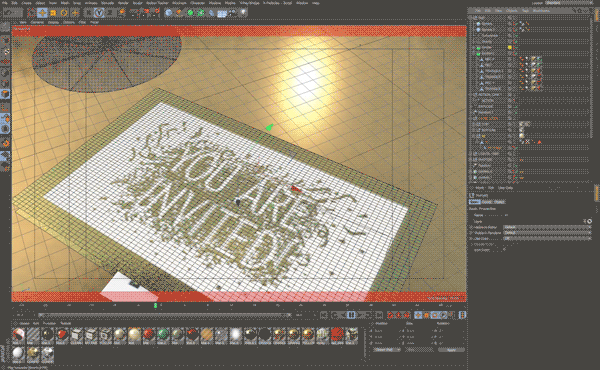 Solution 03:
Utilizing the bend deformer to deform the 3D geometry to simulate a breezy environment effecting the pinned photo booth photos. 
Solution 04:
After building a 3D house of cards using Polaroids, I simulated the house collapsing using Maxon Cinema 4D 3D Dynamics module.  Rendered the animation and in Adobe After Effects, I time remapped the animation to have the house of Polaroids building.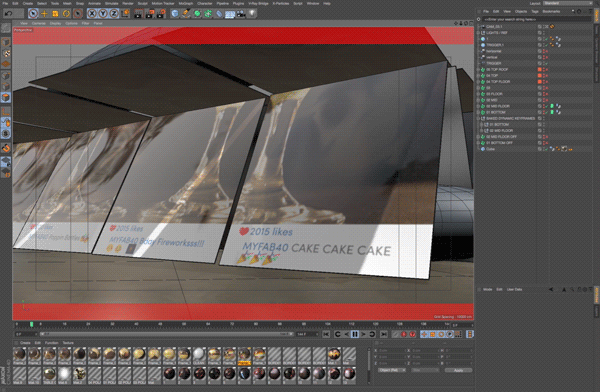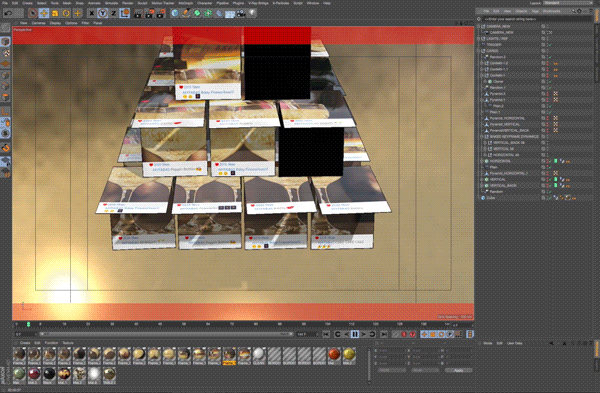 Solution 05:
Building erected house of Instagram photos with Maxon Cinema 4D cloner object, I used effectors and keyframes animation to reveal the final show title.